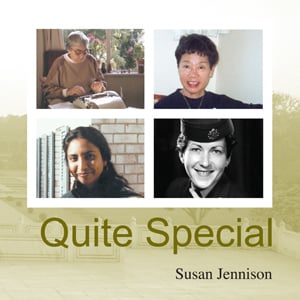 $

19.95
Quite Special
A book by Historian Susan Jennison
The biographies of four women entwined by elements of excitement, historical events, culture, humour and adventurous lifestyles, illustrate that they are far from being ordinary.
Bernice's words, "a great place to meet spies", illustrates her experience when she lived in Moscow, meeting and befriending some of the Cambridge spy group.
Lucy grew up in the embassies of the Nationalist Government of China. Her escape with her mother and sister, from the Japanese during WW2, shows her family's resilience in adversity.
Mallika living in India experienced an arranged marriage and was then whisked away to the United States to start another life. Cooking, housework and managing a home had to be learnt fast.
Maureen's training in the New Zealand Air Force initiated her love of pageantry. Now residing in London she works and travels extensively to anywhere that she fancies.
Susan Jennison cleverly links the test with documents, certificates, photographs and extensive footnotes of historical events, to illustrate the eras of these four women.