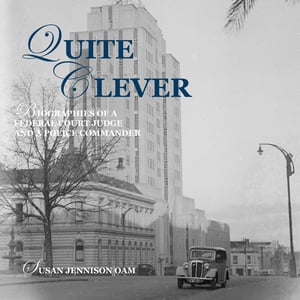 $

34.95
Quite Clever: Biographies of a Federal Court Judge and a Police Commander
A book by Historian Susan Jennison OAM
The Hon Ray Northrop, QC, retired Federal Court Judge and Jim Williams, QPM, retired Commander in the Victorian Police Force are both men of great interest and integrity. Their stories intermingle to illustrate different aspects of the law and the manner in which it is understood and practiced.
Susan Jennison is a qualified Historian and Librarian. Her work has varied from research in media and journalism and being responsible for three special collections at a university library. Her first non-fiction book was written in 2004, titled "Quite Special: biographies of four women" Now she has written about two very special men, who are extraordinary and exceptional.
Drawn from long interviews and research the book gives insights and highlights of their work, family, beliefs and life. Susan's skills and compassion in biographical writing is a great tribute to these two Australian men of distinction.
"Almost every case involved applying new principles of law by decisions of the new Federal Court it kept extending its jurisdiction." R.N.
"In those days you had to use an old typewriter and somehow we got through all of the preliminaries and I cautioned him and said he didn't have to answer any question…" J.W.
The book Quite Clever is available at this reduced price to celebrate its launch.